11/20/2018 8:00:00 AM | Money Matters
Holiday Shopping Online Safety Guide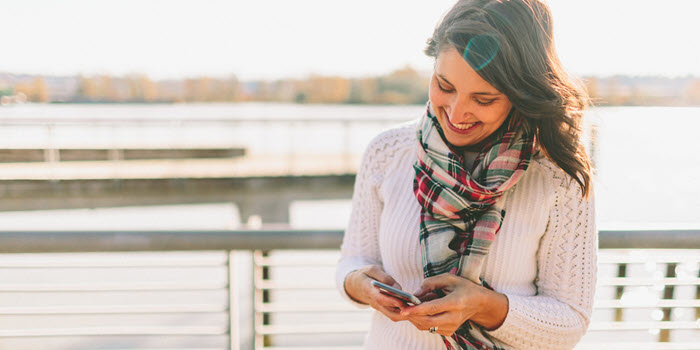 Late November is when holiday shopping really gets going. According to a Nielsen report from last year, about half of American consumers start their holiday shopping the week of Thanksgiving, which means customers are about to spend hundreds of billions of dollars before the end of the year. With a wealth of Black Friday deals and holiday shopping ahead of us, it's a perfect time to think about good cybersecurity practices and how to shop online safely. Here are some tips that you can use to spend wisely over the next few months.
1. Have a payment survival plan
Avoid a bad spending hangover on New Year's Day by budgeting beforehand and purchasing within those limits. The winter holiday season is a major time for American shoppers to go into debt, but you don't have to be one of those. Once you know what you want and have a sensible budget in mind, the internet makes it easier than ever to find the best deals. Comparison shopping is always a good idea, and you can do it easily online through sites like PriceGrabber. Major retailers will offer holiday deals on their websites, through catalogues mailed directly to your home, and through their apps on your Apple or Android device. Above all, making a holiday shopping budget and sticking to it is the best way to spend sensibly.
2. Keep your receipts and an eye on your statements
Save your receipts (whether they're paper receipts or emailed to you) while shopping and make sure everything adds up within your budget. The same goes for your bank and credit card statements. If something suspicious comes up, contact your financial institution as soon as possible and don't hesitate to contest a suspicious charge.
3. Black Friday shopping tips
Through the internet and print media, you can get a good idea of where the best deals will be this Black Friday. Black Friday and Cyber Monday online deals are an easy way to get your shopping done without leaving the house. If you choose to go into a brick and mortar store, know what you want beforehand since you can expect crowds. Early birds are also rewarded, since a lot of retailers open at midnight on Thanksgiving. When you shop on Black Friday, know the store's policies. Some retailers offer price-matching guarantees, but most require the physical print ad, so plan ahead. And don't forget about gift receipts!
4. Know the benefits of different payment methods
Certain payment methods and shopping platforms offer more buyer protection than others. For example, if you use a credit card instead of a debit card, you have an extra layer of protection between fraudsters and your actual money. Different online companies also offer varying levels of protection. PayPal offers buyer protection but Venmo doesn't, for example, so you can consider this when paying, too. You can add another level of protection by shopping online with a virtual credit card, or by buying a gift card in-store and paying online with that.
5. Be smart while shopping online
As always, one of the best ways to stay safe is to be skeptical of things that seem too good to be true. If a website offers rare, popular, or hard-to-find items at a bargain price, this is a sign to be cautious. If you're in doubt about whether a website looks legitimate or not, a Google search will usually turn up reviews that will inform you one way or another. Websites like Complaints Board, Ripoff Report, or iFormative are good resources for logging customer complaints about dishonest online businesses. If a company is scamming people, there's a good chance that someone has documented it online. You can also consult the Better Business Bureau's website.
6. Beware of phishing
Phishing is probably the most popular way for online scammers to steal information, so we've written about how to avoid phishing scams in the past. This is true during the holiday season, too. A common phishing attempt will look like an email from a major company offering an irresistible holiday deal or a gift card. This could be a message you find in your email inbox, or it could even be a post in a Facebook group or a WhatsApp message. Be wary of messages like this. If a deal is legitimate, it'll be on the company's website. Avoid clicking links in general, and instead go to the official website and find it there. If it's a real deal, a retailer like Amazon or Target won't keep it a secret.
7. Verify your online security before you buy
A reputable business will use a secure server, which means you'll see a URL that starts with HTTPS. If it doesn't have the S and display a lock icon, walk away. If a site looks cheap, amateur, or offers suspicious items, it's a big red flag.
If you want to shop using a mobile app, make sure to download it from an official source like the Apple App store or the Android Market. Major apps will have large numbers of downloads and user reviews. Shopping from your phone or tablet? Only make purchases when you're logged in to a secure, private Wifi network (i.e. one that's password-protected).
Unfortunately, since Cyber Monday is the most popular online shopping day of the year, this is also a busy season for scammers and cyber-criminals. Fortunately, safe online holiday shopping is not difficult, and if you know what to watch out for, you don't have to worry about whether it's safe to shop online this Black Friday.
Keep your holiday spending on track from anywhere with mobile banking. You can check your balance and set up regular transfers to your savings or money market account—so you can start planning for next year's shopping spree.