Home Lending
Accessing My Mortgage Through Online Banking
It's simple. When you enroll in Personal Online Banking you'll have full access to your mortgage online. Enroll now
Here's how to access the online mortgage experience:
If you already have an Umpqua Personal Online Banking account, then you're all set. Log in to your personal banking account and select mortgage to manage your mortgage account.
Don't have a Personal Online Banking account with us yet? You'll need one to access your online mortgage account. We'll help you get set up. It's easy!
Follow these three steps:
Simply navigate to the 'Log in' button on this page and select 'Personal Banking' to access your mortgage moving forward. You will no longer use the 'Mortgage' login.
From the 'Personal Banking' login, enter your mortgage username where it says 'Login ID' and enter your mortgage password. Then we'll send you a verification code.
After you receive and enter the verification code, you'll need to reset your password. That's it, you're all set!
Once you've set up your new login, you'll have direct access by using the 'Personal Banking' login and selecting mortgage from your new Personal Banking dashboard.
What can I do with Mortgage Online Banking?
You can take care of most transactions and review your account. Here's a full list of what you can do online:
Schedule one-time payments or recurring transfers
View monthly statements and sign up for paperless statements
Download your end of year tax information
Review escrow details such as hazard or optional insurance
Generate payoff statements
Set up alerts based on payment, tax or insurance activity
Calculate scenarios such as the projected payoff date or changes to the principal
Take a tour of the online mortgage experience
Download the following customer guide to help you get started with mortgage online banking.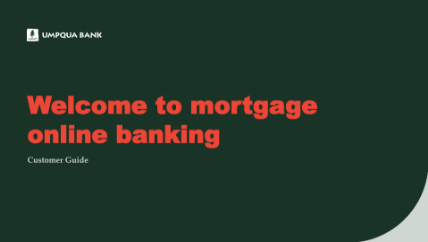 Additional Information