 Identity Theft & Fraud
Mobile Banking Fraud
I love mobile banking, but I'm worried about keeping my financial information safe. Any suggestions?
Here are twelve common-sense steps you can take to protect the personal information on your mobile device.
Require authentication
By setting a lock timeout with a PIN or Passcode, any time you access your device, you'll need the correct PIN or Passcode to unlock it. This means that if your phone is lost or stolen, no one can access your personal info. (Have a built-in fingerprint reader? That works great too.)
Activate a wipe
With this option, your device will automatically wipe its data after a set number of failed login attempts. Everything you have saved on your mobile device (apps, app settings, photos, account information etc.) will be removed, resulting in no information for the unauthorized user to see or use.
Keep track of your device
Everyone misplaces their phone now and then. However, it's important to know where your mobile device is to prevent unauthorized access. Never leave a device unattended in your vehicle or in a public space. If your device is lost or stolen, give us a call at (866) 486-7782 and let us know; we can assist you in protecting your Umpqua account information and online banking login access.
Don't store passwords
Never store passwords when accessing your accounts via a web browser. While it may make it easier for you to log in to your account, it also makes it easier for someone else to log in as well.
Always log off
Be sure to use the log off option once you're done with your mobile banking so you don't leave access to your accounts open.
Keep your device up-to-date
Updating your device operating system software and applications is important. This will ensure that any security loopholes that have been found by mobile device manufacturers are fixed. Most devices will automatically notify you that an update is available and prompt you to install it.
Install security software
By installing an antivirus software on your device, you'll help protect it from malware and virus attacks.
Download with care
Don't download apps from unknown application stores. Make sure Android devices are not configured to install applications from unknown sources.
To disable this function on an Android device, go to Settings/Security and look for "Unknown Sources - Allow installation of applications from sources other than the Play Store". Make sure this is disabled.
Applications provided by Umpqua Bank will state that they've been developed by Umpqua Bank and are available for download from the Apple Store and Google Play. Don't download our apps from another application store.

Check out this example from the Apple Store: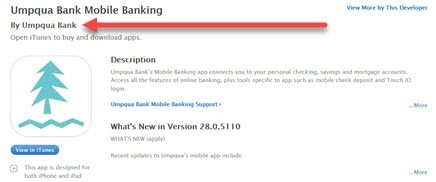 Don't use mobile devices that have been rooted or jailbroken
When you "root" or "jailbreak" a mobile device, you remove the manufacturer restrictions of the operating system and every application that's installed will have full system access to your device. This leaves the device extremely vulnerable to malware and viruses.
Bookmark the site
If you're accessing your banking information via a browser, bookmark our site, UmpquaBank.com, to avoid the risk of incorrectly typing in the website address and getting sent to a look-alike phishing site.
Be aware
When you're using your device in a public place, be aware of your surroundings. You'll want to avoid showing sensitive information where others have a clear view of your screen (or its reflection).
Be cautious when using public Wi-Fi
If someone is connected to the same Wi-Fi network as you, they may be able to detect information that you send and receive from your device. Avoid accessing your banking and financial information, or accessing sites that require you to provide personal information. If you must use public Wi-Fi, install a VPN (Virtual Private Network) application from a reputable developer. This will ensure a secure encrypted connection.