February 09, 2021 | Money Matters
Beware Cupid's Fraudulent Arrow: How to Protect Your Money and Your Identity from E-Romance Scams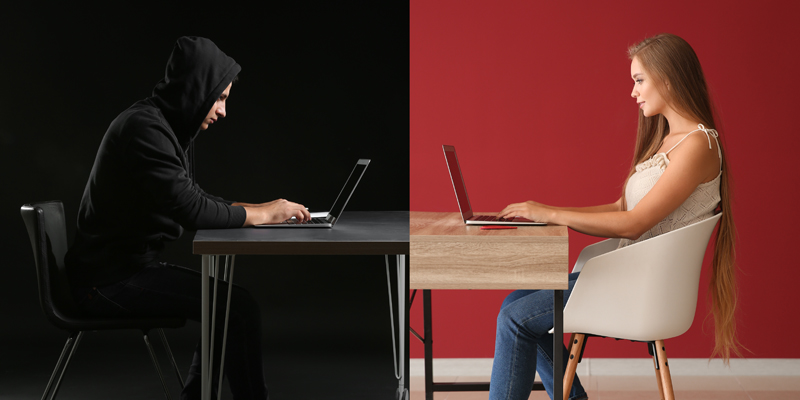 If you're on the online dating scene, beware your next connection—it could be costly.
While February may be the unofficial month of love thanks to Valentine's Day, it's not all rosy. That's because it's also an opportune time for fraudsters looking to capitalize on e-romance scams that can swindle money and/or valuable personal information out of unsuspecting victims looking to make a new connection online.
Last year, the Federal Trade Commission (FTC) wrote that consumers reported losing over $200 million to romance scams in 2019—a nearly 40% spike from 2018. And those numbers are expected to be much higher for 2020 because of the challenges brought on by the COVID-19 pandemic.
If you're looking for love, here's how you can help protect your money and identity from such fraudsters while you're on the online dating scene.
High-level overview of what e-romance scams are all about
E-romance scams typically involve fraudsters using fake online personas to try to connect with unsuspecting victims to the point where some type of trusted "relationship" is formed over time. Eventually the fraudster starts asking for money or sensitive information for seemingly legitimate purposes that are actually just tricks to help them get paid.
Here are some other quick things to note regarding e-romance scams, per the FTC:
Whether on online dating platforms (e.g., Match, eHarmony, Tinder) or social media (e.g., Facebook, Instagram, Twitter), there are fraudsters lurking and willing to lie about anything and everything related to their true identity in an attempt to make a seemingly trustworthy connection with a potential target.
It's now easier to perpetuate these schemes online because the pandemic is a great excuse not to meet in person.
Fraudsters can use other people's photos and profile information to create a seemingly legitimate online persona. This also allows them to cast a wide net in hopes they can pull in multiple victims from around the world using the same bogus persona(s).
Many of these scams begin with lies about where the fraudster's persona is located or what they do for work. They almost always involve reasons why they can't meet in person (that would give the whole scam away), like being in the military, traveling often for work, or being located in a country that's currently on lockdown.
Potential targets are almost always eventually asked to wire money, reload gift cards, or otherwise provide bank account and/or credit card information as part of the fraudsters' elaborate stories. For example, a fraudster may eventually ask something like,
"My car broke down today, but I can't afford the repairs. Can you lend me some money to help until I get paid next week? I could even just give your credit card details to the repair shop so that you don't actually have to send me anything…"
Or fraudsters may even ask for their targets' account information to "deposit" money, a trick to actually designed to get easy access to targets' own money. For example,
"Happy birthday! I wanted to send you a birthday card with a little something in it, but I'm embarrassed to say that I didn't have time. But how about I wire you some fun money? What's your account number and routing details so that I can send that to you in time for your weekend plans?"
Tips for protecting against e-romance scams
If you're heading out onto the online dating scene, exercise extreme caution when making connections. Below are some specific tips that can help those in the online dating field protect themselves against e-romance scams:
Limit how much information about you is shared online. Fraudsters use details from social media and dating sites to help socially engineer potential victims. They can flirt and create connections based on everything you love if you make those things public. As usual, if it seems too good to be true, then it's time to end the "relationship."
Perform reverse image searches on somebody you connect with online. Check out their supposed profiles across social media and even other dating platforms to see if your new friend has personal details that are used other places. And go slow…there's no rush to meet (especially if you never meet face-to-face).
Apply common sense over your feelings:

Is there always an excuse your new friend can't meet you in person? That's a red flag.
Is your new friend seemingly always in some kind of financial trouble and asks for money often? That's also a red flag.

Refrain from sending money to someone you haven't met in person. Often, the risks of losing money in these kinds of scams are high because they typically involve wires; if you willingly wire money to an unknown party, there is little recourse to recoup lost cash, as there isn't much of a paper trail to follow.
Be careful out there
When it comes to online dating, it pays to be diligent. Especially because doing so can help protect your money and identity from being stolen. If you think you've been victimized by an e-romance scam, report it to the FTC as soon as possible. If you're an Umpqua Bank customer, you can also contact our Customer Resource Center to report suspicious activity.