April 28, 2021 | Business Success
Five Ways Your Business Could Benefit from a Payments Upgrade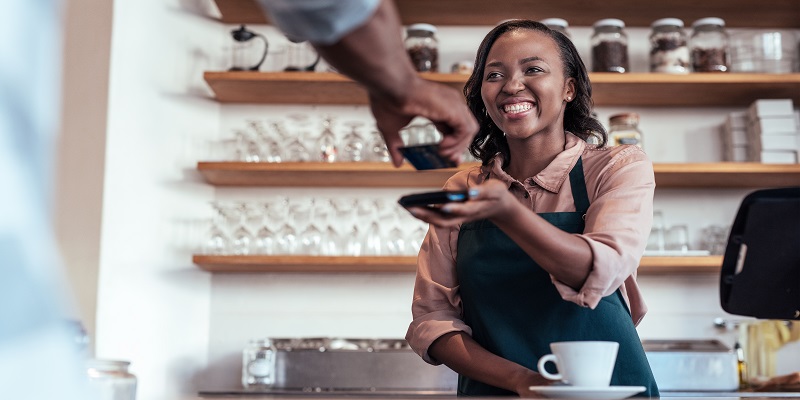 (Hint: The benefits could have a greater impact than you might think.)
There's no shortage of upgrades you could make to potentially strengthen your business and its operations. From building a better website to buying a new storefront to changing distributors, the right upgrades can make all the difference when it comes to your bottom line. But one upgrade in particular that shouldn't be overlooked can have a major impact your business' growth potential:
How your business collects payments.
Money is the lifeblood of your business, and how you collect that money, or your merchant services, can have a major impact on your business. That includes the type of experience your customers have with you, how much it costs you to do business, how protected you and your customers' information is from fraud, and how you can collect and use data about your business in real-time, and how you can introduce new revenue streams.
Fortunately, having the right merchant services program specific to your business could work wonders. Here are five specific benefits your business could realize by upgrading your merchant services:
1. Stronger customer experience
It's no secret that happy customers are good for business. And part of keeping customers happy is offering convenience. So, it's worth noting that research shows that more consumers are replying on their phones instead of their wallets for transactional convenience.
Specifically, according to this 2020 Mastercard survey, more consumers are adopting "tap-and-go" payment methods (e.g., mobile phone apps like Apple Pay and Google Pay) that reduce the need to carry cash and/or wallets altogether. Such methods are also making transactions safer to conduct in person, a factor that's becoming more important to consumers as a result of the COVID-19 pandemic. The right merchant services program could help ensure that you're able to offer such convenience to your customers—and even help you securely store customer payment details, providing additional convenience for repeat customers.
Ultimately, offering your customers the most convenient ways to securely pay could mean smoother transactions and an overall great experience—that could keep customers coming back for more and/or recommending to others.
2. Lowers your costs of doing business
Having the wrong merchant services set-up for your particular business could mean that unexpected fees and other costs affect your profits. For example, the costs to service an outdated credit card machine could stack up over time if you don't upgrade but want to continue accepting card payments. In addition, your payment card vendor's equally outdated terms of service agreement might have you paying excessive fees that are archaic considering modern payment methods.
If your business is subject to unexpected costs from either of the above scenarios, it might be a good time for you to make some changes. State-of-the-art equipment from a new vendor that allows you to accept newer and more sophisticated forms of payment that are cheaper for you to process could mean more money from each transaction going back into your pocket.
Additionally, upgrading your merchant services with the bank where your business accounts reside will result in same- or next-day credit of all transaction receipts directly to your account. This enables your business to optimize working capital and put your collections to work immediately.
3. Increased fraud protection
As a business owner, you probably know that fraud involving payment cards is expensive—with global losses in 2019 hitting nearly $29 billion according to the 2020 Nilson Report. But the right merchant services solutions should help you feel more confident in protecting both you and your customers from fraud.
This includes things like upgrading your payments equipment to more state-of-the-art devices that feature stronger security against known vulnerabilities and that accept forms of payments (e.g., EMV/smartcards and/or tap-and-go options) that are widely considered more secure than traditional methods (e.g., credit cards featuring only magnetic strips).
In addition to technology, the right merchant services provider could also offer advanced monitoring tools (e.g., machine learning) and highly skilled specialists working behind-the-scenes to ultimately help you and your customers avoid successful fraud attempts.
4. Provides smarter data to help you make better decisions
Smart data can help you make smart decisions to get your business ahead. And that should include having real-time access to business intelligence and custom reports that tells an accurate story of how your business is performing with customers. Your transactions can reveal a lot more than just what was sold, for how much, and when, but also things like customer trends; insights that could help you keep customers coming back for more.
Fortunately, the right merchant services program can help you get access to such insights—and right when you need them. Such data could even help you re-shape your marketing efforts to help ensure the right message gets to the right people and helps them make the right decisions when it comes to doing business with you.
5. Helps you introduce new revenue opportunities
Getting your in-person point-of-sale situation in order is essential, but what if you've got that down and are ready to expand your operations? The right merchant services program can help you take your business to those new heights, including potentially increasing your revenue and brand awareness. For example, maybe you're ready to incorporate a stronger e-commerce presence across multiple platforms (e.g., Amazon, Instagram, eBay, Facebook) simultaneously with your physical operations—but all from one portal? Maybe you're looking to add gift cards as another offering? Or perhaps you'd like to do all of these things in addition to other ideas?
The right merchant services program should be able to accommodate these ideas and ultimately help you grow your business in ways that perhaps you didn't even think were possible before. And that includes bringing new ideas for your business to your desk that perhaps you hadn't thought of yet. The right program should lead to the right partnership where everybody is on the same page for your business.
Talk with an expert
If you think there's an opportunity for your business to benefit from a merchant services change, talk with one of our specialists about what that might look like for your business—including the many benefits that could come with doing so. Check out our Cash Management page for businesses for more information, and click here to have a merchant services expert from one of our nearby locations give you a call at a time that's convenient for you.